Stone
Cripple Creek Stone Yard, located three miles north of Crescent, OK, offers an extensive inventory of beautiful rock. From New York state's finest granite to building stone quarried in Hackett, Arkansas, Cripple Creek Stone Yard can locate the perfect material for your project.
The Cripple Creek team prides themselves on decades of experience and quality workmanship, providing customers with beautiful and durable solutions in stone. Contact us for an estimate on a project you're considering.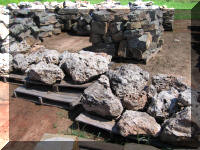 Cripple Creek Stone is also a dealer of Stucco Stone, a highly versatile and realistic man-made product.
Take a look at a few of the beautiful and unique projects completed by Cripple Creek Stone. Cripple Creek supplies their clients with the finest rock and flagstone from quarries throughout the U.S.