Outdoor Cooking
Cripple Creek Stone Yard is a licensed dealer of the award winning Kingfisher Kookers; gas grills famous for their convenience, ease of use, and superior cooking abilities.
Light the grill, put on the meat, and close the hood until you're ready to eat. Burgers, steaks, vegetables and sausages will cook evenly with moist heat and no flare-ups. Long-lasting and sturdy stainless steel burners come with a 10-year warranty and a service guarantee.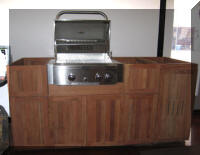 Customized Stainless Steel Grates
Cripple Creek Stone Yard also sells ¼" stainless steel cooker grates of any size with integrated OU or OSU designs, as well as other custom artwork.
We also carry 14" logs of cherry, pecan, hickory, and mesquite used for gourmet outdoor cooking. Check out our competitive prices.
As we add new product lines often, please check back frequently
From large outdoor cookers to small camping grills to tables and woods and barbeques sauces, Cripple Creek helps enhance your outdoor cooking experience.
Cripple Creek Stone Yard has added several kinds or world-class gourmet barbeque sauces to its inventory. The Fat Bastard brand, made in Montreal, Missouri, and Miss Audrey's from Colby, Kansas, enhance barbequed meat with a unique and delicious taste. Attractive gift sets, perfect for corporate or individual giving, are available, as well.
We are proud to be a member of the Kansas City Barbeque Society